[Political]
Wall Street Bank with Three Felonies Sends Employee to Head SEC Trading Division
By Pam Martens and Russ Martens
Posted January 12, 2018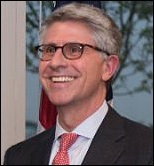 The arrogance of the captured Wall Street regulators in Washington grows exponentially with each passing day.
The only Wall Street bank which has admitted to three criminal felony charges – all coming within the past three years – has been allowed to send one of its trading executives to head a key post at Wall Street's top cop – the Securities and Exchange Commission (SEC). Failing up continues to be the business model in the nation's capitol.
The Trump administration, in its continuing Swamp-filling mandate from the billionaires behind the dark curtain, has elevated Brett Redfearn as Director of the Division of Trading and Markets at the SEC. Redfearn has worked at JPMorgan Securities from November 2004 to October 2017 when he was named to the new SEC post. More…