[Media]
George Orwell's Guide to the News
By Adrian Salbuchi
Posted August 2, 2019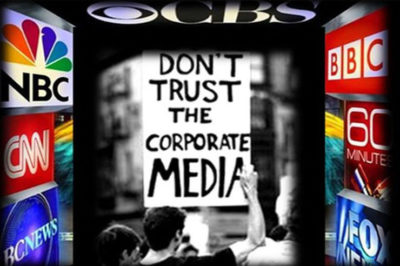 The Western mainstream media falsifies the news resorting to euphemisms, half-truths and lies in the best (worst) style of George Orwell's novel 1984. We all live in the unreal world of "Newspeak" used by the Global Power Elite to control our minds.
Today, mainstream media coverage uses programmed distortion, confusion, even outright lying when its Money Power masters order it to support the "official story" on any major political, economic or financial process. When looked at closely, however, the "official story" of things can be seen to be inaccurate, misleading, often hardly believable if not downright stupid.
Examples of this: Iraq's nonexistent WMD's leading to the invasion and destruction of that country; global mega-banker bail-outs with taxpayer money; irrational US diplomatic, military, financial and ideological alignment to Israeli objectives; "we-killed-Osama-Bin-Laden-and-dumped-his-body-into-the-sea"; and the wide array of "whodunits" surrounding 9/11 in New York and Washington, 7/7 in London, the AMIA/Israeli Embassy attacks in Buenos Aires in 1992/1994, and – of course – that all time favourite: who shot JFK…? More…