[Social]
Saving the Planet Means Overthrowing the Ruling Elites
by Chris Hedges
Posted October 10, 2019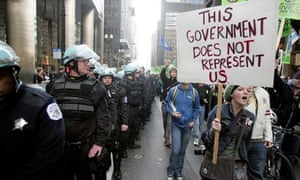 Protests can be the beginning of political consciousness. But they can also be empty political theater. They can be used to celebrate our moral probity—advertisements, especially in the age of social media, for ourselves. They can be a boutique activism in which protesters allow themselves to be funneled through police barricades and arrests are politely choreographed, resulting in a few hours in jail and the credentialing of the demonstrators as radicals.
They can be used to distance ourselves from a repugnant political figure such as Donald Trump, while leaving us silent and complicit when the same policies are carried out by a supposed progressive such as Barack Obama. This is a game the state has learned to play to its advantage. As long as we do not disrupt the machine, as long as we protest according to their rules, the elites will let us march through the streets of Washington in pussy hats or walk out of school for a day.
When power is threatened, as it was in the sustained protests during the Occupy encampments and at Standing Rock, the ruling elites react very differently. They employ the full weight of the surveillance state to demonize the protesters, arrest and detain the leadership and infiltrate agents provocateurs to carry out violent assaults to justify the use of the police and security forces to shut the protests down. More…