Community Articles from 2016
Privatizing the Clearing of Homeless Encampments
by Ansel Herz
Posted May 12, 2016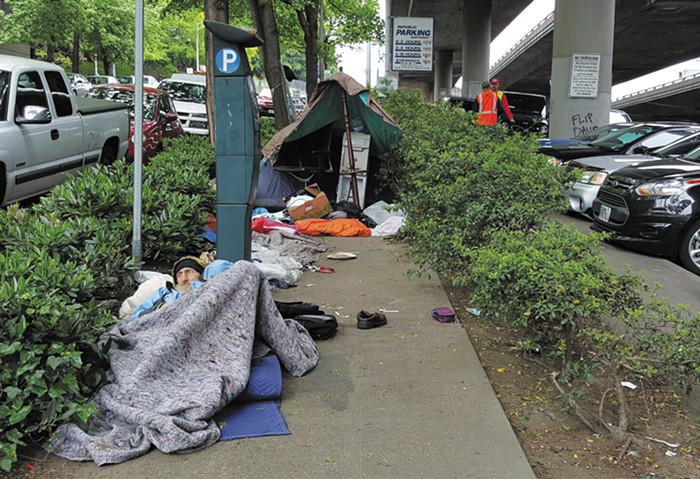 The fast-growing, progressive city of Seattle is privatizing some of the work involved in evicting its many homeless people from unauthorized camping sites to a new company—a firm specially created to clear out the places where the homeless sleep.
The company is called Cascadia Cleaning and Removal, and its website advertises "Homeless Encampment Abatement and Removal" services. On a recent morning, I encountered two of their workers manning a trash bin next to a homeless encampment—where an elderly man was still sleeping—on a sidewalk beneath I-5, a few blocks away from City Hall. One worker told me they "toss everything" if no one is around to claim their belongings. He said they would come back again later because the camp was still occupied.
The city is paying the company $240 per hour for "encampment cleanup in designated locations as needed," according to a copy of its contract, $80 per hour per worker in a three-person crew. More…
This company and its employees sell their souls for profit and money. Perhaps they should remember and internalize these words: "Verily I say unto you, Inasmuch as ye have done it unto one of the least of these my brethren, ye have done it unto me."
The Shocking Truth about Our Money System and How We Can Break Free!
This site is designed for people who wish to follow important events, but do not have time to do a lot of reading. If you follow this site for a period of time, the daily fresh stories in different categories will over time provide you with an understanding of the "big picture" by showing you both the problems and the solutions. Hopefully this will inspire you to listen to your inner wisdom and become part of the solution.