Justice Articles from 2017
[Justice]
Death of Freddie Gray: 5 Things You Didn't Know
By Amelia McDonell-Parry and Justine Barron
Posted September 14, 2017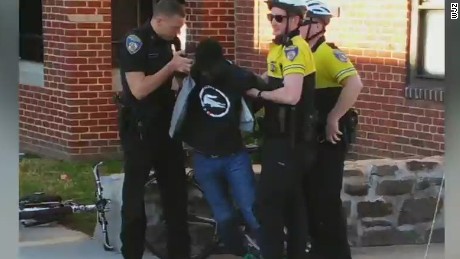 Freddie Gray became a national news story thanks to a man named Kevin Moore, who filmed the last few minutes of Gray's arrest. After giving a copy of the video to investigators, Moore uploaded the footage online and it quickly went viral. It showed Gray being held face down on the sidewalk by officers Garrett Miller and Edward Nero, screaming in pain. His ankles were crossed and his knees bent, with Miller's weight pushing his heels in his rear, a police hold known as a leg lace.
While Moore's video was shown in court at the police officers' trials, he was never called to testify. Neither were any of the dozen-plus residents who witnessed Gray's arrest that morning, despite many of them giving damning interviews to the media under their own names. Some of these witnesses were interviewed by detectives, but their accounts – of Taser use, of seeing an officer put his knee in Gray's neck, of Freddie crying out that they were hurting his back and his legs – were dismissed by both the police and prosecutors. Other officers who were present during the arrest, but weren't charged, testified that Gray was only trying to attract attention, but witnesses maintain his screams were real. More…
The Shocking Truth about Our Money System and How We Can Break Free!
This site is designed for people who wish to follow important events, but do not have time to do a lot of reading. If you follow this site for a period of time, the daily fresh stories in different categories will over time provide you with an understanding of the "big picture" by showing you both the problems and the solutions. Hopefully this will inspire you to listen to your inner wisdom and become part of the solution.