Justice Articles from 2019
[Justice]
The Silence on Wall Street's Dark Pools Is Deafening
By Pam Martens
Posted February 11, 2019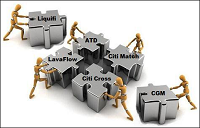 It is destined to go down as one of the greatest journalistic and regulatory failures of our time – the lack of serious attention by investigative business reporters and the U.S. Department of Justice to the glaring fact that the largest Wall Street banks continue to trade their own and each other's bank stocks in their own Dark Pools.
Dark Pools function as unregulated stock exchanges inside the bowels of the largest Wall Street banks. Making the situation even more dicey, some of the big banks own more than one Dark Pool, raising the possibility that there could be cross-trading between those pools to artificially inflate or depress stock prices. More…
The Facts:
The large banks are profiting while living in a legal environment of impunity despite repeated violations of the law. This happens regardless of which political party is in power.

Reflect On:
Consider why and how this is allowed. What are the root causes of this impunity and who benefits from it?
The Shocking Truth about Our Money System and How We Can Break Free!
This site is designed for people who wish to follow important events, but do not have time to do a lot of reading. If you follow this site for a period of time, the daily fresh stories in different categories will over time provide you with an understanding of the "big picture" by showing you both the problems and the solutions. Hopefully this will inspire you to listen to your inner wisdom and become part of the solution.