The Secret Global Court: Why Corporate Criminals & Corrupt Politicians Desperately Want TPP
by Mike Krieger
Posted September 3, 2016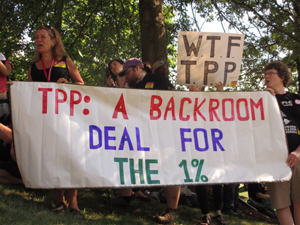 Obama needs to ensure he gets well compensated after leaving office for a job well done protecting, defending and further enriching the global oligarch class. This is precisely why he's so adamant about passing the TPP during the upcoming lame duck session of Congress, when he knows "representatives" who no longer face reelection can be coerced or bribed into voting for this monumental public betrayal.
The Trans-Pacific Partnership (TPP) ins't really a free trade deal, it's a way for global oligarchs to consolidate, grow and protect their enormous wealth. The investor-state dispute settlement system (ISDS) is perhaps the most nefarious and objectionable aspect of the deal, with this shadowy court system being used to accomplish the following for the super rich and powerful: More…
The Shocking Truth about Our Money System and How We Can Break Free!
Great story on why we need to remove ALL of our elected government representatives
This site is designed for people who wish to follow important events, but do not have time to do a lot of reading. If you follow this site for a period of time, the daily fresh stories in different categories will over time provide you with an understanding of the "big picture" by showing you both the problems and the solutions. Hopefully this will inspire you to listen to your inner wisdom and become part of the solution.