Here's How Wall Street Is Ripping You Off, and What You Can Do About It
By Pam Martens and Russ Martens
Posted November 9, 2016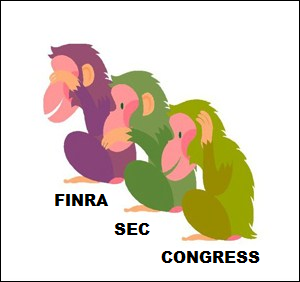 Members of Congress were absolutely shocked – shocked! – that the employees of the commercial bank of Wells Fargo had created several million accounts and credit cards that their customers had never asked for simply to meet sales quotas set by the bank and/or to obtain bonuses.
But what is going on every single day at the brokerage firms owned by all of these banking giants is that the stock broker (variously called a financial consultant, financial adviser or Vice President of Investments) is able to triple the commission he collects on the bonds he sells you at his discretion. It's been that way for 30 years, if not longer. More…
Anyone who thinks thinks that either Trump or Clinton will do anything about this, is living an illusion.
The Shocking Truth about Our Money System and How We Can Break Free!
Great story on why we need to remove ALL of our elected government representatives
This site is designed for people who wish to follow important events, but do not have time to do a lot of reading. If you follow this site for a period of time, the daily fresh stories in different categories will over time provide you with an understanding of the "big picture" by showing you both the problems and the solutions. Hopefully this will inspire you to listen to your inner wisdom and become part of the solution.