[Social]
Amazon's Next-Day Delivery System Has Brought Chaos And Carnage To America's Streets — But The World's Biggest Retailer Has A System To Escape The Blame
By Caroline O'Donovan and Ken Bensinger
Posted September 28, 2019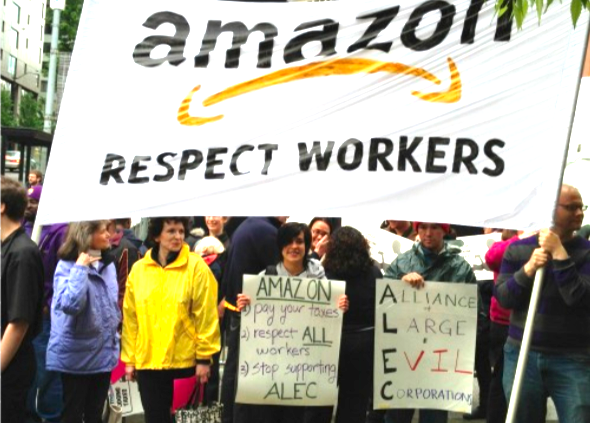 Deaths and devastating injuries. A litany of labor violations. Drivers forced to urinate in their vans. Here is how Amazon's gigantic, decentralized, next-day delivery network brought chaos, exploitation, and danger to communities across America.
Amazon drivers say they often have to deliver upwards of 250 packages a day — and sometimes far more than that — which works out to a dizzying pace of less than two minutes per package based on an eight-hour shift.
The system sheds costs and liability, even as it grows at lightning speed, by using stand-alone-companies such as Inpax to pick up packages directly from Amazon facilities and deliver them to the consumer — covering what's known in the industry as "the last mile." Amazon goes further than gig economy companies such as Uber, which insist its drivers are independent contractors with no rights as employees. By contracting instead with third-party companies, who in turn employ drivers, Amazon divorces itself from the people delivering its packages. More…
The Facts:
Large corporations such as Amazon have no regard for the welfare of people, are only interested in making more money,  and shield themselves from liability for their actions.

Reflect On:
When you spend your money, you are essentially voting, supporting a corporation and its policies. Consider this the next time you spend your money. Do you prefer to give your money to a faceless transnational corporation, big box store, or would you rather support a local mercgant, a small mom and pop store, or local farmer?

The Shocking Truth about Our Money System and How We Can Break Free!
Great story on why we need to remove ALL of our elected government representatives
This site is designed for people who wish to follow important events, but do not have time to do a lot of reading. If you follow this site for a period of time, the daily fresh stories in different categories will over time provide you with an understanding of the "big picture" by showing you both the problems and the solutions. Hopefully this will inspire you to listen to your inner wisdom and become part of the solution.