Gallup CEO Fears He Might "Suddenly Disappear" for Questioning U.S. Jobs Data
By Pam Martens and Russ Martens
Posted February 9, 2015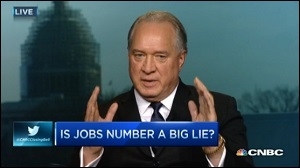 Years of unending news stories on U.S. government programs of surveillance, rendition and torture have apparently chilled the speech of even top business executives in the United States. Yesterday, Jim Clifton, the Chairman and CEO of Gallup, an iconic U.S. company dating back to 1935, told CNBC that he was worried he might "suddenly disappear" and not make it home that evening if he disputed the accuracy of what the U.S. government is reporting as unemployed Americans.
The CNBC interview came one day after Clifton had penned a gutsy opinion piece on Gallup's web site, defiantly calling the government's 5.6 percent unemployment figure "The Big Lie" in the article's headline. His appearance on CNBC was apparently to walk back the "lie" part of the title and reframe the jobs data as just hopelessly deceptive. More…
The Shocking Truth about Our Money System and How We Can Break Free!
Great story on why we need to remove ALL of our elected government representatives
This site is designed for people who wish to follow important events, but do not have time to do a lot of reading. If you follow this site for a period of time, the daily fresh stories in different categories will over time provide you with an understanding of the "big picture" by showing you both the problems and the solutions. Hopefully this will inspire you to listen to your inner wisdom and become part of the solution.