Vermonters Lobby for Public Bank—And Win Millions for Local Investment Instead
by Alexis Goldstein
Posted January 15, 2015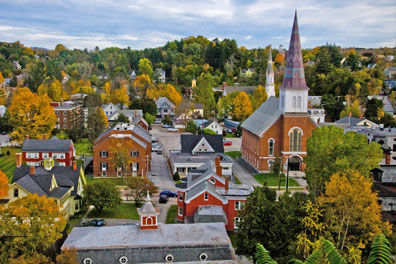 Advocates didn't get the public bank they wanted. But the compromise they reached in the end was still a rare and significant win over Wall Street banks. Right before 2014 came to a close, Wall Street won an enormous victory in the year-end spending bill. The so-called "CRomnibus" bill, which included language written by Citigroup lobbyists, gutted a key piece of Wall Street reform meant to prevent future bailouts of big banks with taxpayer money.
This win came after the financial industry spent years chipping away at the Dodd-Frank Wall Street Reform and Consumer Protection Act, which passed in 2010. Wall Street lobbyists gained little victories along the way, but never stopped asking for more. By making bold and ongoing asks, Wall Street was able to win, even when lawmakers sought a compromise.
There's another group of Americans, however, with a different agenda for the future of banking—people who are also pushing hard for policy change. They're advocates of public banking, and they want to see new banks created that would be owned and operated by the government, usually at the state or city level. (This would greatly increase the amount of investment capital available for small business development, local infrastructure, and affordable public transportation, none of which are much favored by private banks seeking a high return on investment.) More…
The Shocking Truth about Our Money System and How We Can Break Free!
Great story on why we need to remove ALL of our elected government representatives
This site is designed for people who wish to follow important events, but do not have time to do a lot of reading. If you follow this site for a period of time, the daily fresh stories in different categories will over time provide you with an understanding of the "big picture" by showing you both the problems and the solutions. Hopefully this will inspire you to listen to your inner wisdom and become part of the solution.