[Justice]
I Am Julian Assange
Raúl Ilargi Meijer
Posted May 22, 2018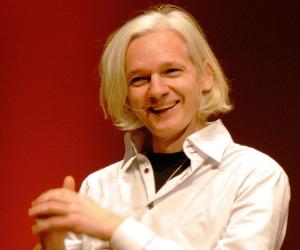 Julian Assange appears to be painfully close to being unceremoniously thrown out of the Ecuadorian embassy in London. If that happens, the consequences for journalism, for freedom of speech, and for press freedom, will resound around the world for a very long time. It is very unwise for anyone who values truth and freedom to underestimate the repercussions of this.
In essence, Assange is not different from any journalist working for a major paper or news channel. The difference is he published what they will not because they want to stay in power. The Washington Post today would never do an investigation such as Watergate, and that's where WikiLeaks came in.
Julian is not wanted because he's a spy, or even because he published a number of documents whose publication was inconvenient for certain people. He is wanted because he is so damn smart, which makes him very good and terribly effective at what he does. He's on a most wanted list not for what he's already published, but for what he might yet publish in the future. More…
The Shocking Truth about Our Money System and How We Can Break Free!
Great story on why we need to remove ALL of our elected government representatives
This site is designed for people who wish to follow important events, but do not have time to do a lot of reading. If you follow this site for a period of time, the daily fresh stories in different categories will over time provide you with an understanding of the "big picture" by showing you both the problems and the solutions. Hopefully this will inspire you to listen to your inner wisdom and become part of the solution.