The Curious Case of Vanishing Lady Liberty; Only Gold and Silver Remember Her
by Guy Christopher
Posted July 23, 2016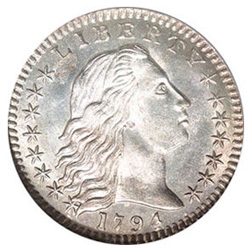 The very first word anyone ever saw on a circulating United States coin was the word "LIBERTY." From half-cents to silver dollars, each featured the likeness of an unnamed woman. The images varied, thanks to different engravers, but together they became recognized as Lady Liberty. Many, maybe most, of young America's citizens were illiterate. "Liberty" may have been the first word they ever learned to read. If not, they surely knew her face. The Revolutionary War for them was not ancient history.
The Founding Fathers knew all gold, silver, and copper is sound money and didn't mind that American coinage circulated alongside colonial and foreign coins depicting kings and queens. But Lady Liberty alone belonged to the United States. Her anonymous image spoke plainly to a cornerstone of human freedom – private wealth – in your hands, belonging to you, no counter-party strings attached. More…
The Shocking Truth about Our Money System and How We Can Break Free!
Great story on why we need to remove ALL of our elected government representatives
This site is designed for people who wish to follow important events, but do not have time to do a lot of reading. If you follow this site for a period of time, the daily fresh stories in different categories will over time provide you with an understanding of the "big picture" by showing you both the problems and the solutions. Hopefully this will inspire you to listen to your inner wisdom and become part of the solution.