Political Articles from 2016
As Markets Gyrate Wildly, Senator Shelby's Banking Committee Will Look at Market Structure
By Pam Martens and Russ Martens
Posted March 1, 2016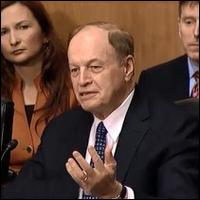 Senator Richard Shelby (R-Alabama), the Chair of the U.S. Senate Banking Committee, has announced a hearing on March 3 at 10:00 a.m. to examine "Regulatory Reforms to Improve Equity Market Structure." To appropriately conduct that hearing, all the lights should be turned out in the hearing room and the senators and witnesses should have to fumble and stumble their way to their seats in the dark, since that's what American investors have been forced to do since the 2008 crash – a tortuously long seven years of make-believe financial reform.
Following the 1929 crash, whose economic impact was also swift and devastating, the Senate Banking Committee spent the years of 1932 through 1934 holding comprehensive hearings and investigations on the structure of the stock market. The hearings unraveled, day by day, the frauds that the Wall Street titans of that era were inflicting on a gullible public. More…
The Shocking Truth about Our Money System and How We Can Break Free!
This site is designed for people who wish to follow important events, but do not have time to do a lot of reading. If you follow this site for a period of time, the daily fresh stories in different categories will over time provide you with an understanding of the "big picture" by showing you both the problems and the solutions. Hopefully this will inspire you to listen to your inner wisdom and become part of the solution.