Political Articles from 2017
[Politics]
Who Are The Controllers?
By Mees Baaijen
Posted October 15, 2017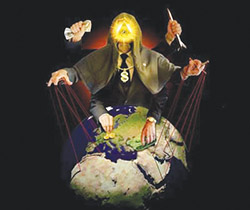 In the West, we've all been spoon fed the idea that we are free citizens of sovereign countries, where our democratically elected governments rule according to the peoples' wishes. If that's not achieved, it's usually explained as being due to misfortunes such as crises, security threats or wars, or the stupidity of our governments. The few people that doubt these explanations, or even suspect hidden hands behind the occurrences of our time or the official narrative of our history, are easily dismissed as conspiracy nuts.
The banksters' unimaginable power of deceit turned the truth upside down, making into heroes the very instigators of these destructive wars. How on earth did they manage that? Through control of the mainstream media, science and academia (in particular history and economics), the education system and the entertainment industry. That's how they shape our perception of the present and the past, and that's how the majority of people are kept in ignorance of these machinations. When the truth is finally heard, it's difficult to grasp because the lies are so big, the scope so vast, and the real events of history so different to what we've been told. To wake up and accept the truth about the situation, and acknowledge we've been duped, most people go through the painful process of cognitive dissonance,9 which is like losing part of your identity. More…
The Shocking Truth about Our Money System and How We Can Break Free!
This site is designed for people who wish to follow important events, but do not have time to do a lot of reading. If you follow this site for a period of time, the daily fresh stories in different categories will over time provide you with an understanding of the "big picture" by showing you both the problems and the solutions. Hopefully this will inspire you to listen to your inner wisdom and become part of the solution.