Political Articles from 2018
[Economic]
As Cable News Obsesses Over a Porn Star, Senate Prepares to Put the Next Wall Street Crash in Motion
By Pam Martens and Russ Martens
Posted April 18, 2018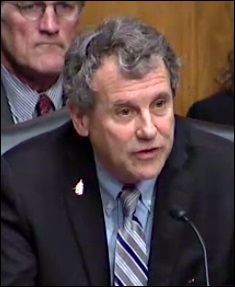 The U.S. Senate is about to set in motion the next financial crash on Wall Street but you would never know it from watching cable news channels CNN or MSNBC last evening. Both news channels obsessed for endless hours over the Trump-Russia scandal and a hush money payoff to porn star Stormy Daniels, neglecting one of the most critical topics of the day: what was happening on the Senate floor this week.
Some of the most informed Democratic voices in the U.S. Senate are making impassioned and heartbreaking appeals to their colleagues this week on the floor of the U.S. Senate to vote down Senate bill S.2155, which carries the Orwellian title: "The Economic Growth, Regulatory Relief and Consumer Protection Act." The bill is a Republican/Wall Street lobbyist masquerade to ostensibly help small community banks but will effectively gut enhanced oversight of banks with up to $250 billion in assets – mega banks by any measure – that want to dodge oversight of their derivative counterparty exposure to the largest Wall Street banks like JPMorgan Chase and Citigroup. More…
The Shocking Truth about Our Money System and How We Can Break Free!
This site is designed for people who wish to follow important events, but do not have time to do a lot of reading. If you follow this site for a period of time, the daily fresh stories in different categories will over time provide you with an understanding of the "big picture" by showing you both the problems and the solutions. Hopefully this will inspire you to listen to your inner wisdom and become part of the solution.