Spiritual Articles from 2020
[Spiritual]
Research Shows We Can Heal With Vibration, Frequency & Sound
by Arjun Walia
Posted January 15, 2020
When it comes to ancient knowledge, sound, frequency and vibration have always been perceived as powerful forces that can influence and alter life all the way down to the cellular level. Sound healing methods are often used by Shamans, who employ drums and singing to access trance states.
The idea that the mind affects physical material reality is not trivial, and it's been demonstrated repeatedly with statistically significant results through fascinating research undertaken by government programs, places like the Institute of Noetic Sciences (founded by Dr. Edgar Mitchell), and, in more recent developments, the group of internationally recognized scientists mentioned above.
If thought alone does indeed have an effect on physical material reality, just imagine what it could do to our body? Something to think about. More…
The Facts:
Multiple studies and examples have shown how sound, frequency and vibration can literally alter physical material matter. Research has also shown that sound, frequencies and vibration can be used as a significant healing method for various ailments.
Reflect On:
How plausible would it be for these interventions to become a regular part of therapy, just as much as pharmaceutical drugs are now?
[Spiritual]
Photons, Quasars and the Possibility of Free Will
By Brian Koberlein
Posted January 12, 2020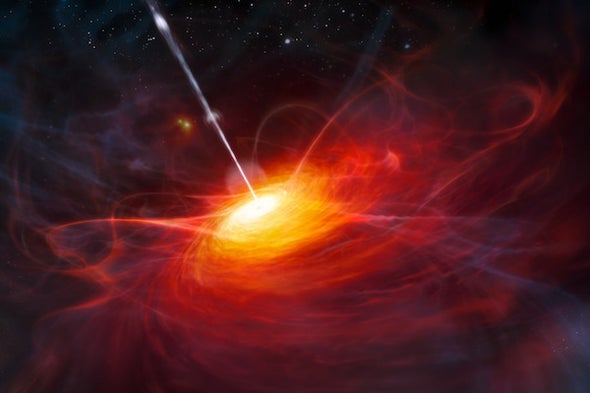 Flickers of light from the edge of the cosmos help physicists advance the idea that the future is not predetermined.
Life is full of choices. Do we have a cookie or go to the gym? Do we binge watch our favorite show on Netflix or go to bed at a reasonable time? Our choices have consequences, and we make them of our own free will. Or do we?
The nature of free will has long inspired philosophical debates, but it also raises a central question about the fundamental nature of the universe. Is the cosmos governed by strict physical laws that determine its fate from the big bang until the end of time? Or do the laws of nature sometimes allow for things to happen at random? A century-old series of physics experiments still hasn't been able to settle the question, but a new experiment has tilted the odds toward the latter by performing a quantum experiment across billions of light-years. More…
[Spiritual]
Changing Outer Reality Requires Changing Inner Reality
By Paul Lenda
Posted January 6, 2020
We all have our desires and wishes for how we would like to see the world. We may rise up against the oppressive control matrix and join resistance movements, believing that opposition by force, even if it's for a good cause, is the way to create meaningful change.
I'm here to tell you that this is simply untrue. External reality does not take on form until internal reality is formed. Whatever the form of the internal reality is, the external will be a reflection of it. The collective group consciousness of people, be it in a family, village, country, or the entire global noosphere, will reflect in the external shared reality.
Remember, we cannot call for world peace while we are still fighting within…fighting self-destructive shadows that are wreaking havoc on our peace of mind. The outer reality is a reflection of the inner reality, both individually and collectively. The sooner we realize that, the sooner we understand that mandated change by force will always be doomed to fail. We will simply match up to the reality we resonate with at the moment. More…
The Shocking Truth about Our Money System and How We Can Break Free!
This site is designed for people who wish to follow important events, but do not have time to do a lot of reading. If you follow this site for a period of time, the daily fresh stories in different categories will over time provide you with an understanding of the "big picture" by showing you both the problems and the solutions. Hopefully this will inspire you to listen to your inner wisdom and become part of the solution.