Five Facts That Put America to Shame
by Paul Buchheit
Posted June 2, 2012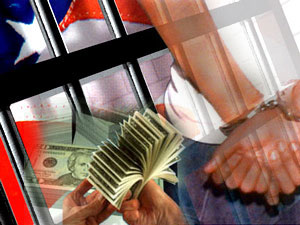 We give prison sentences for smoking marijuana, but not for billion-dollar fraud. About half of our world-leading prison population is in jail for non-violent drug offenses. Americans have also been arrested for handing out free food in a park. Mothers in Ohio and Connecticut were jailed for enrolling their kids in out-of-district schools. As of 2003 in California there were 344 individuals serving sentences of 25 years or more for shoplifting as a third offense, in many cases after two non-violent offenses. How does the market deal with this steady tide of petty crime? It strives for more. The new trend of private prisons is dependent on maintaining a sizable prison population to guarantee profits, with no incentive for rehabilitation.
We've betrayed the young people who were advised to stay in school. Over 40% of recent college graduates are living with their parents, dealing with government loans that average $27,200. The unemployment rate for young people is about 50%. More than 350,000 Americans with advanced degrees applied for food stamps in 2010.
As Washington lobbyists endeavor to kill a proposed bill to reduce the interest rates on student debt, federal loans remain readily available, and so colleges go right on increasing their tuition. Meanwhile, corporations hold $2 trillion in cash while looking for investments and employees in foreign countries, and American students are forced to accept menial positions. More…