Paychecks, Perception, Propaganda & Power
by James Quinn
Posted January 24, 2012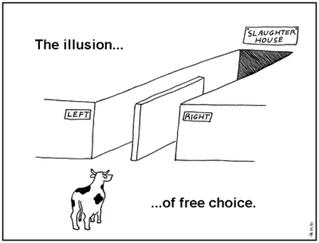 I had been trying to wrap my head around what happened with the Occupy Movement since the Department of Homeland Security coordinated destruction of most of the encampments around the country in November. The corporate mainstream media immediately moved onto more pressing issues like the Kim Kardashian divorce and Jessica Simpson's weight gain. The American public has been instructed by the media the Occupy story is history, just like the BP oil spill, the Fukushima nuclear meltdown, and the Egyptian revolution. In a society consumed by reality TV Occupy Wall Street was just another show.
Obama's signing of the NDAA, overwhelmingly supported by politicians of both parties, now gives the ruling class the ability to track down and imprison indefinitely any American citizen they consider a threat to their power, without charges. The only remaining thorn in their side is the internet. The internet has allowed critical thinkers to share information, organize resistance to the oligarchs, create communities of like-minded citizens, and allow individuals the opportunity to turn the tables and perform surveillance on the state. The state does not like an unfettered internet because it allows citizens to find the non-manipulated truth and undermines their mainstream media propaganda machine. Young people are less able to be manipulated. The introduction of abominable legislation like SOPA and PIPA are a blatant attempt by the governing elite to crush dissent by locking down the internet and eliminating sites that question their version of reality. More…