Social Articles from 2017
[Social]
On Criminalizing Homelessness and Feeding the Hungry, the State Is Indeed the Bad Guy
by Claire S Bernish
Posted March 13, 2018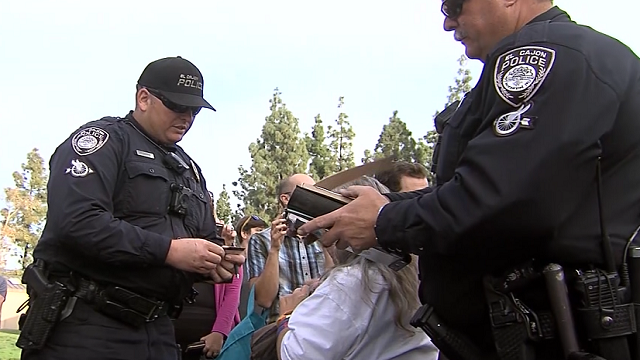 Atlanta and other cities have added to obstacles between houseless people and those who would provide them nourishment, predicating any immediate assistance on their entrée into the impoverishment assistance complex — while simultaneously frustrating activists and advocates with a deluge of impossible red tape making the act of sharing food a laborious chore for those attempting to work within its confines.
The Nation painted a more appropriately dismal if albeit embarrassing picture on the status of feeding houseless people — nearly three years ago, in February 2015 — reporting,
"According to a survey of more than 180 cities by the National Law Center on Homelessness & Poverty, anti-homeless laws pervade urban spaces nationwide. Roughly a third of cities barred public 'camping,' for example, up 60 percent since 2011. Restrictions range from prohibiting sitting on sidewalks to imposing steep fees or regulations that effectively criminalize actions of charity groups, often using antiseptic 'quality of life' terms (a tent pitched under a bridge becomes an unauthorized 'camp'). Palo Alto has banned sleeping in parked cars. Mobile has imposed zero-tolerance on 'aggressive panhandling,' which could involve just 'request[ing] a donation from a person standing in line…no matter how mildly the request was made.' Last year, ThinkProgress reported, Fort Lauderdale authorized police to bust people who 'store possessions' on public property — suggesting that homeless people don't deserve to have what little they carry with them, let alone 'quality of life.'" More…
There are more vacant foreclosed  homes than there are homeless. Evidence of the abject failure of capitalism.
The Shocking Truth about Our Money System and How We Can Break Free!
This site is designed for people who wish to follow important events, but do not have time to do a lot of reading. If you follow this site for a period of time, the daily fresh stories in different categories will over time provide you with an understanding of the "big picture" by showing you both the problems and the solutions. Hopefully this will inspire you to listen to your inner wisdom and become part of the solution.